"Mineralogical Almanac" is the source of information
for mineral collectors and amateurs around the world
who seek a deeper knowledge of minerals, mineral deposits & localities, collections and more!
Important Dates in October
Latest Publications
MINERAL OBSERVER
Mineralogical Almanac, volume 26, issue 3, 2022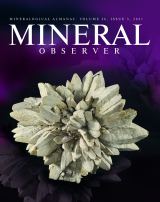 88 pages, 180 illustrations including 106 mineral photos.
The main article in this issue is a large and informative one by Alexander I. Tishchenko, Anatoly V. Kasatkin, and Evgeniy A. Shibaev
"Famous mineral localities of Crimea: Karadag". This review on the mineralogy of the famous ancient volcano contains much new data obtained by the authors during their field observations and laboratory examination ofminerals, both fromrecent collections and from old collections. Two articles by Anton V. Kutyrev and Nadezhda D. Tolstykh are dedicated to the memory of the famous mineralogist Evgeniy G. Sidorov. The two Fall Mineral Shows in 2021, Denver and Munich, are covered in short reports by Philip M. Persson (Denver-2021), Zbynek Burival and Mark Mauthner (Munich-2021). The report on the Denver Mineral Show is illustrated by a Photo Gallery "Fluorite" by Jeffrey Scovil, and in the report on the Munich Mineral Show we present photo essay by Michael B. Leybov.
Status:
Available
Price:
$35.00 (USD)

Add to shopping cart
MINERAL OBSERVER
Mineralogical Almanac, volume 27, issue 1, 2022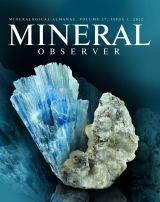 88 pages, 164 illustrations including 107 mineral photos.
In first article of the issue new mineral locality is described by Lubov V. Badyanova and Anatoly V. Kasatkin in article about minerals of the Shaposhnikov Caucasus State Natural Biosphere Reserve. Article of Zoya A. Bessudnova, our regular author and expert of history of geology science together with her colleagues Vera V. Romanova and Nina N. Samsonova devoted to old mineral collections of Johann Carl Freiesleben, who assumed the office of Oberberghauptmann in the Saxon Oberbergamt in 19th century. Now his representative collection keeps in Vernadsky State Geological Museum RAS in Moscow. "Speaking in the First Person" section represents the article titled "About Minerals and about Me. Life Pages" by the well-known Bulgarian mineralogist Mikhail N. Maleev. Our regular contributor Boris Z. Kantor devoted new article in his "Guide to the Ontogeny of Minerals" section to ontogeny of pyrrhotite from Dalnegorsk. The "Museum News" section in the issue is devoted to the Fersman Mineralogical Museum. Pavel Yu. Plechov and Michael B. Leybov tell about the most important news in the Museum. Traditional article in "Stone-carved Masterpieces of the State Hermitage Museum" section by Natal'ya M. Mavrodina and Elena A. Olkhovaya is devoted to the famous extraordinary Kolyvan Vase so-called the "Queen of Vases".
Status:
Available
Price:
$35.00 (USD)

Add to shopping cart
MINERAL OBSERVER
Mineralogical Almanac, volume 26, issue 2, 2021


88 pages, 247 illustrations including 134 mineral photos.
This issue opens with the article by Jacques Touret and Zoya A. Bessudnova, devoted to the European period in the life and work of the outstanding scientist Vladimir I. Vernadsky. Anatoly V. Kasatkin, one of our constant authors wrote the second article on New Finds of Rare Minerals in Russia. Boris Z. Kantor, in his article, tells about the Dalnegorsk minerals from the collection of Alexander Mineev, a wonderful mineral collector, recently passed away. The find of an unusual halite variety is described in article by Vladislav V. Ivanov, Mikhail V. Tsyganko, Ilya I. Protasov and Elena A. Kanzyuba. The history of the cabinet created by the Masters of the Imperial Peterhof Lapidary Factory in 1860s for Eugénie, Empress of France is vividly described in the article by Ludmila A. Budrina. Short notes are devoted to a Mineral Photo ?ompetition (Michael B. Leybov) and the opening of a new hall in the "Shtufnoi Kabinet" Museum in Severouralsk (Larisa A. Levitskaya).
Status:
Available
Price:
$35.00 (USD)

Add to shopping cart