"Mineralogical Almanac" is the source of information
for mineral collectors and amateurs around the world
who seek a deeper knowledge of minerals, mineral deposits & localities, collections and more!
Important Dates in September
Latest Publications
MINERAL OBSERVER.
Mineralogical Almanac, volume 26, issue 1, 2021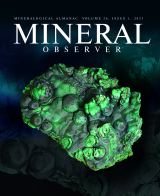 96 pages, 247 illustrations including 134 mineral photos.The paper by Igor V. Pekov and Dmitry I. Belakovskiy presents the new exhibition "Remarkable Minerals of the Khibiny and Lovozero Alkaline Massifs (Kola Peninsula)" at the Fersman Mineralogical Museum.
Boris Z. Kantor devotes his traditional column "Guide to the Ontogeny of Minerals" to the splitting of crystals and, as usual, convincingly and gracefully resolves some complicated puzzles of nature. The column "Speaking in the First Person" is given to Georgiy A. Yurgenson, one of the veterans of Soviet and Russian geology and a wellknown researcher of mineral resources of Transbaikalia. The opening of the "Planeta", a new private mineralogical museum in Ekaterinburg is promoted in a paper by Mikhail V. Tsyganko. A brief article by Michael B. Leybov is devoted to the collection of Boris A. Yatskevich, which was recently donated to the Chernyshev Central Geological Research Museum by his widow. Interesting finds of minerals in the Plast district (South Urals) in 2018–2019 are described in the paper by Sergey V. Kolisnichenko. The essay by Ludmila A. Budrina and Sergey E. Vinokurov sheds light onto a fairly unusual subject: it describes a collection of "Azbuka" (alphabet) ancient postcards with Siberian minerals. Interesting pages of stone carving art in Russia are covered in the paper "Ural Jasper Masterpieces by Russian Carvers: Collection of the State Hermitage Museum" by Elena A. Olkhovaya and Natalia M. Mavrodina. Intenational events that occurred in 2020 are elucidated in two papers: Carles Manresa Pla and Carles Curto Mila write about the virtual mineral shows by Jordi Fabre, and Raquel Alonso-Perez, Eloïse Gaillou and Bryan Swoboda attract attention to the "Mineral Talks LIVE" meetings.
Status:
Available
Price:
$35.00 (USD)

Add to shopping cart
MINERAL OBSERVER.
Mineralogical Almanac, volume 25, issue 2, 2020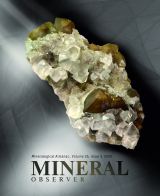 80 pages, 247 illustrations including 142 mineral photos.
The section Famous Mineral Localities opens with a paper by Vladimir A. Popov and Sergei V. Kolisnichenko devoted to a new magnificent find of polyakovite-Ce at the Ilmeny state natural reserve, South Urals, Russia. Another paper in this section is by Mikhail V. Tsyganko and is dedicated to minerals of the Elovskoe nickel deposit. Marking eighty years anniversary of the renown mineralogist of our time, prof. Vladimir I. Pavlishin, we publish two papers. One of themdescribes the V.I. Pavlishin's scientific activities and their evolution with time and was written by his colleagues and fellows, well-known researchers Orest I. Matkovsky and Anna A. Kul'chitskaya. The other paper is historiographic, was written by Vladimir I. Pavlishin, and is devoted to the brilliant scientist, founder of the Ukrainian crystal chemical school Alexander S. Povarennykh. In column on the ontogeny of minerals, Boris Z. Kantor focuses on sprinklings on crystals. Irina E. Rudenko, the founder of the Sevastopol Museum of minerals, Crimea, writes about new finds and acquisitions of crimean minerals at the museum. The annual Tucson Mineral Show is covered in a number of publications by Terry Wallace, Carles Manresa, Alfredo Petrov, Gail and Jim Spann. A paper by Nikolay M. Podgornykh and Andrey V. Vishnevsky from the Siberian Branch of the Russian Academy of Sciences is devoted to their colleague Vladimir I. Vasiliev, who was an unequalled researcher and worldwide renown expert in mercury minerals.
Status:
Available
Price:
$35.00 (USD)

Add to shopping cart
For Beginners in Mineral Collecting (in Russian)
Boris Z. Kanror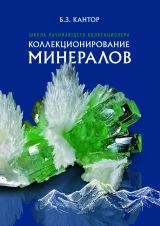 For Beginners in Mineral Collecting (in Russian) Boris Z. Kanror
Moscow: «Russian minerals» and «Mineralogical Almanac» Publishing House, 2020.
128 pages., 332 illustrations including 219 photo of minerals.
Status:
Available
Price:
$50.00 (USD)

Add to shopping cart