"Mineralogical Almanac" is the source of information
for mineral collectors and amateurs around the world
who seek a deeper knowledge of minerals, mineral deposits & localities, collections and more!
Important Dates in April

April 3, Lev Andreevich Suzdaltsev was born. He graduated from the is a mineralogist and collector, living in Chelyabinsk. He graduated from the St.-Petersburg University. During recent 20 years, he gifted several outstanding specimens to the university and other museums. These are epidote and perovskite from the Zelentsovskaya Mine in the South Urals, record pyrochlore crystals from the Tartar massif in Siberia.

April 8, 1765, Vasily Mikhailovich Severgin, a prominent chemist and mineralogist, was born (died 1826). He was a member of the St. Petersburg Academy of Sciences, an author of the first compilation on the minerals of Russia (1809), and one of the founders of the St. Petersburg Mineralogical Society (1817).

April 8, 1960, Victor Ponomarenko was born. He graduathed from the Moscow State Mining Academy. He is a geologist, collector, and connoisseur of mineralogy of Dalnegorsk and Zhezkazghan. He worked on the abandoned pegmatites of Akzhailyau in eastern Kazakhstan where he collected outstanding crystals of pink apatite with alexandrite effect.

April 10, 1927, Alexander Alexandrovich Godovikov was born (died 1995). He is a famous Russian mineralogist. Mineral godovikovite is named in his honor.

April 13, 1923, Anatoly Ivanovich Kuvarzin was born. He is a geologist and a connoisseur of gemstones who worked for many years on the deposits of peuso-optic raw materials and gemstones for the Eksportsamotsvety Expedition. In the 1970s, he was a director of the "Colored Stones" shop in Moscow. He is one of the enthusiastic supporters of the Geopark Project. Together with Godovikov, he worked in the Vernadsky State Geological Museum after its opening in 1988.

April 17, 1834, Nils Gustaf Nordenskiold discovered alexandrite on the birth day of the future Emperor Alexander II. This jewelry variety of chrysoberyl originated from Izumrudnye Mines in the Middle Urals.

April 19, 1765,

April 19, 1957, Vladimir Krikov was born. This geologist and collector graduated from the Moscow State Mining Academy. He worked on the famous deposits of Kazakhstan (Altyn-Tyube, Kara-Oba, Akchatau). The main subject of his outstanding collection is micro-inclusions in quartz. These specimens attracted special attention in the Friends of Mineralogy Club in January-March 2003.

April 24, 1902, Georgy Alexeevich Krutov, a mineralogist and a geologist, was born (died 1989). He was a Professor of the Mineralogy Chair, Moscow University, and specialized in studies of cobalt deposits. Mineral krutovite was named in his honor.


Latest Publications
MINERAL OBSERVER.
Mineralogical Almanac, volume 22, issue 1, 2017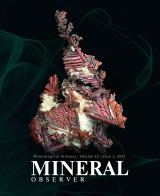 96 pages, 172 illustrations including 105 mineral photos.
Themain article of this issue by Vasiliy N. Orlov on Gold Nuggets fromSiberia continues a series of publications devoted to Treasures of the Diamond Fund of Russia. The information and photographs of most of these nuggets are published here for the first time. Pavel Yu. Plechov, director of the Fersman Mineralogical MuseumRAS, continues a project for the 300th Anniversary of this Museum. Another part of the museum section is devoted to the Paris Natural History Museum that is reported by Cristiano Ferraris, Caroline Noyes, and Jean-Marc Fourcault. The Jubilees section is devoted to crystallographer Nikolay V. Belov and mineralogists Nathan I. Ginzburg and Richard V. Gaines, outstanding scientists of the 20th century.
Jacques Touret, from Ecole des Mines de Paris and Andrey G. Bulakh from the St. Petersburg State University tell about the detailed history of the building of the Tombstone of Napoleon I in Paris from quartzite from Shoksha (Karelia, Russia). Sergey V. Kolisnichenko reports on a new meteorite form the South Urals (Russia). Reports of Mineral Shows and exhibitions held in 2016 include the Moscow and Munich Mineral Shows and a stonecutting art exhibition in the Vernadsky State Geological Museum RAS (Moscow).
Status:
Available
Price:
$35.00 (USD)

Add to shopping cart
MINERAL OBSERVER.
Mineralogical Almanac, volume 21, issue 3, 2016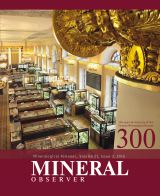 96 pages, 223 illustrations including 156 mineral photos.
Main article by Irina I. Kupriyanova and Nikolay N. Krivoshchekov devoted to beryllium minerals of the unique Ermakovskoye deposits in the Eastern Transbaikal Region. Boris Z. Kantor devoted his ontogenic column to unusual calcite from India.
Two articles devoted to the eminent persons of the mineral world: Nikolay P. Yushkin, Academician, mineralogist, and Wendell Wilson, the Publisher and Editor-in-Chief of the famous American magazine Mineralogical Record.
The phenomenon of mineral collecting is discussed again on the pages of our magazine in an article of Boris Z. Kantor.
As usual we publish reports from some Mineral Shows, held in the first half of the year in Tucson (United States), Moscow (Russia) and Sainte-Marie-aux-Mines (France).
Status:
Available
Price:
$35.00 (USD)

Add to shopping cart
Mineralogy of Saranovskoe Chromite Deposit (Middle Urals)
Mineralogical Almanac, volume 21, issue 2, 2016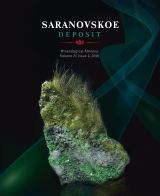 Famous Mineral Localities of Russia
Oleg K. Ivanov
Mineralogy of Saranovskoe Chromite Deposit (Middle Urals). Mineralogical Almanac, volume 21, issue 2, 2016.
Moscow: Mineral-Almanac Ltd. 128 pages, 261 illustrations including 179 mineral photos.

This issue of Mineralogical Almanac is devoted to the Saranovskoe chromite deposit at Middle Urals.
This deposit known for almost two hundred years is a unique mineralogical object, particularly as a source of great diversity of unusual Cr-bearing minerals. Among mineralogists and collectors Saranovskoe is famous for nice specimens of uvarovite, shuiskite, redledgeite, millerite, Cr-enriched varieties of titanite, amesite, diaspore, kassite, and pumpellyite-group and chlorite-group minerals. Crystals of grimaldiite and guyanaite were first found here.
At present 111 mineral species are known at the Saronovskoe deposit. Rich and unusual mineralization is a result of the interactions of chromitic rocks related to layered gabbro-ultramafic intrusion and hydrothermal solutions produced by dolerite dikes. The data on the mineralogy of the Saranovskoe deposit are summarized including results of author's long-time studies, a review of all previously published data and description of interesting recent mineral finds.
Status:
Available
Price:
$45.00 (USD)

Add to shopping cart