"Mineralogical Almanac" is the source of information
for mineral collectors and amateurs around the world
who seek a deeper knowledge of minerals, mineral deposits & localities, collections and more!
Important Dates in November
Latest Publications
MINERAL OBSERVER.
Mineralogical Almanac, volume 22, issue 2, 2017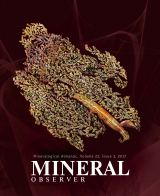 96 pages, 216 illustrations including 158 mineral photos.
The article by Vasiliy N. Orlov on Gold Nuggets found in the Magadan Oblast and Chukotka Peninsula and displayed at the exposition of the Diamond Fund of Gokhran of Russia, is the lead article in this issue. All displayed nuggets are described in detail and are photographed for the first time. Boris Z. Kantor devoted his regular column to the term druza which is widespread in Russian mineral literature. The column "Jubilee" contains an article by Vladimir I. Pavlishin hosting this column about Alexander V. Sidorenko, an outstanding geologist whose creative way was marked by epic discoveries, and an article by Nadezhda N. Krivitskaya and Sophia K. Ryakhovskaya about Marina S. Sakharova, a wonderful scientist and teacher of the Lomonosov Moscow State University. Bob Jones, an outstanding American Collector, Writer and Editor wrote about himself in the column "My Mineralogical Journey". Two articles in the column "Travels for Minerals": first by Victor A. Slyotov remembers his travels to Shurab, Tajikistan, for celestine; second, Mikhail V. Tsyganko with colleagues tells about a Karst Cavity with Calcite Druses in the "Krasnaya Shapochka" Mine, Northern Urals, Russia, and the third article by Mikhail M. Bitman describes findings of skeletal quartz in Lugansk Oblast this spring. Notes on Mineral Shows – Denver-2016 and Tucson-2017, "Virgin Russia" photo exhibition, and Spring Gemma-2017 are also included. And two great Photogalleries – one by Stuart Wilensky and another by Marcus Budil – are real "pearls"of the issue.
Status:
Available
Price:
$35.00 (USD)

Add to shopping cart
MINERAL OBSERVER.
Mineralogical Almanac, volume 22, issue 1, 2017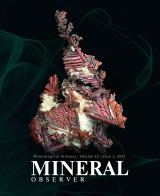 96 pages, 172 illustrations including 105 mineral photos.
The main article of this issue by Vasiliy N. Orlov on Gold Nuggets fromSiberia continues a series of publications devoted to Treasures of the Diamond Fund of Russia. The information and photographs of most of these nuggets are published here for the first time. Pavel Yu. Plechov, director of the Fersman Mineralogical MuseumRAS, continues a project for the 300th Anniversary of this Museum. Another part of the museum section is devoted to the Paris Natural History Museum that is reported by Cristiano Ferraris, Caroline Noyes, and Jean-Marc Fourcault. The Jubilees section is devoted to crystallographer Nikolay V. Belov and mineralogists Nathan I. Ginzburg and Richard V. Gaines, outstanding scientists of the 20th century.
Jacques Touret, from Ecole des Mines de Paris and Andrey G. Bulakh from the St. Petersburg State University tell about the detailed history of the building of the Tombstone of Napoleon I in Paris from quartzite from Shoksha (Karelia, Russia). Sergey V. Kolisnichenko reports on a new meteorite form the South Urals (Russia). Reports of Mineral Shows and exhibitions held in 2016 include the Moscow and Munich Mineral Shows and a stonecutting art exhibition in the Vernadsky State Geological Museum RAS (Moscow).
Status:
Available
Price:
$35.00 (USD)

Add to shopping cart
MINERAL OBSERVER.
Mineralogical Almanac, volume 21, issue 3, 2016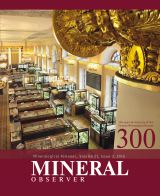 96 pages, 223 illustrations including 156 mineral photos.
Main article by Irina I. Kupriyanova and Nikolay N. Krivoshchekov devoted to beryllium minerals of the unique Ermakovskoye deposits in the Eastern Transbaikal Region. Boris Z. Kantor devoted his ontogenic column to unusual calcite from India.
Two articles devoted to the eminent persons of the mineral world: Nikolay P. Yushkin, Academician, mineralogist, and Wendell Wilson, the Publisher and Editor-in-Chief of the famous American magazine Mineralogical Record.
The phenomenon of mineral collecting is discussed again on the pages of our magazine in an article of Boris Z. Kantor.
As usual we publish reports from some Mineral Shows, held in the first half of the year in Tucson (United States), Moscow (Russia) and Sainte-Marie-aux-Mines (France).
Status:
Available
Price:
$35.00 (USD)

Add to shopping cart