Thank you all our friends,
subscribers, advertisers
for support our magazine!!

Special thank you Harris and Anna,
our great volunteers at the TGMS show!
Mineralogical Almanac is the source of information
for mineral collectors and amateurs around the world
who seek a deeper knowledge of minerals, mineral deposits & localities, collections and more!
Important Dates in December

December 10, 1901, The first Nobel prizes are awarded.

December 25, Christmas Day (in the west). TESTING


Latest Publications
Kola Peninsula
Mineralogical Almanac, volume 18, issue 2, 2013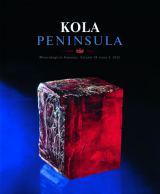 Moscow: Mineral-Almanac Ltd. 128 pages, 203 illustrations including 147 mineral color photos.
This special issue of the Mineralogical Almanac is devoted to the Kola Peninsula. The main article by I.V. Pekov and
A.P. Nikolaev is on the mineralogy of peralkaline pegmatites and hydrothermal bodies of the Koashva apatite deposit in Khibiny. The history of its exploration and geology are outlined, the pegmatite-hydrothermal complex is characterized and 127 minerals are described.
An article by A.V. Voloshin is focused on the history of mineralogical studies of the rare-element granite pegmatites of Kolmozero and Voron'i Tundras and the amazonite pegmatites of West Keivy. The paper by
Yu.L. Voitekhovsky is devoted to almandine and its deposits in West Keivy. A.V. Voloshin, I.V. Pekov and V.V. Borisova give a historical review with statistical data on 264 new minerals first discovered in the Kola region. A special article is devoted to the collection by V.G. Grishin, one of the most interesting modern collections of the Kola minerals.
Status:
Available
Price:
$45.00 (USD)

Add to shopping cart
MINERAL OBSERVER
Mineralogical Almanac, volume 18, issue 1, 2013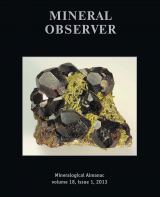 96 pages, 173 illustrations including 145 mineral photos.
The main article in this issue is devoted to the Dashkesan ore deposit situated in the Republic of Azerbaijan, This locality was very popular among collectors and professional mineralogists between 1960 and 1990. In additional to a general description of the geological setting and minerals of the deposit compiled by Michael B. Leybov we also publish two short articles by collectors Boris Z. Kantor and Alexey F. Glushkov, who visited Dashkesan more than once and collected many good specimens there.
The Gold Treasure of the Diamond Fund is described in the article by Vasiliy N. Orlov and Irina B. Taishcheva, who investigated the history of unique gold nuggets found in the Urals during the 20th century and made a thorough morphological description.
As usual we also publish mineral show reports, news and current temporary exhibitions.
Status:
Available
Price:
$35.00 (USD)

Add to shopping cart
MINERAL OBSERVER
Mineralogical Almanac, volume 17, issue 3, 2012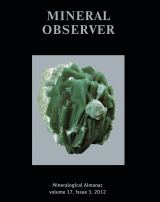 88 pages, 270 illustrations including 150 mineral photos.
The main article of this issue by Ukranian mineralogist Alexander I. Tishchenko deals with the mineralogy of a remarkable mineral locality – Pervomaisky Quarry (Crimea, Ukraine), the mineralization of which is similar to that of the world famous Puna in India. In view of the 150th anniversary of Vladimir I. Vernadsky we publish a historical review by a group of authors from Vernadsky State Geological Museum devoted to Vernadsky's activity in development of the Museum collection. An article by academician Nikolay P. Yushkin describes the historical mineral collection of Russian Tzarina – Alexandra Pavlovna Romanova – in Eötvös Museum of Natural History of Eötvös Loránd University (Budapest, Hungary). As usual, we also publish reports from mineralogical shows: Tucson, Moscow, Saint-Petersburg.
Status:
Available
Price:
$35.00 (USD)

Add to shopping cart