"Mineralogical Almanac" is the source of information
for mineral collectors and amateurs around the world
who seek a deeper knowledge of minerals, mineral deposits & localities, collections and more!
Important Dates in March

March 12, 1863, Vladimir Ivanovich Vernadskiy was born. He was a great Russian scientist and thinker, a prominent mineralogist and a founder of geochemistry. Mineral vernadite is named in his honor.

March 15, 1932, Oleg Vasilievich Kononov was born. He is a specialist in luminescence and mineral typomorphism, technogenic mineralogy and gemology. During more than 40 years, he works as a lecturer at the Mineralogical Department of the Moscow State University.

March 15, 1938, Margarita Ivanovna Novgorodova was born. She is a specialist in gold mineralogy. She was the director of the Fersman Mineralogical Museum of the Russian Academy of Sciences about 10 years. Mineral novgorodovaite is named in her honor.

March 16, 1936, mineralogist Vyacheslav Dusmatov was born. He is one of the first explorers of Dara-I-Pioz Massif. Mineral of dusmanovite, discovered in this massif, is named in his honor.

March 16, 1967, mineralogist Igor Pekov was born. He works at the Mineralogical Department of the Lomonosov Moscow State University as a researcher on mineralogy of alkaline massifs. He is an author of guidebook on new minerals discovered in the former USSR, review about the Lovozero pegmatite and others. He also gathered one of the largest systematic collections of minerals.

March 20, 1933, Alexandr Moiseevich Gorodnickiy was born. He is famous geophysicist and outstanding author of many songs devoted geologists and their travels.


Latest Publications
MINERAL OBSERVER.
Mineralogical Almanac, volume 22, issue 1, 2017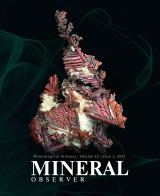 96 pages, 172 illustrations including 105 mineral photos.
Themain article of this issue by Vasiliy N. Orlov on Gold Nuggets fromSiberia continues a series of publications devoted to Treasures of the Diamond Fund of Russia. The information and photographs of most of these nuggets are published here for the first time. Pavel Yu. Plechov, director of the Fersman Mineralogical MuseumRAS, continues a project for the 300th Anniversary of this Museum. Another part of the museum section is devoted to the Paris Natural History Museum that is reported by Cristiano Ferraris, Caroline Noyes, and Jean-Marc Fourcault. The Jubilees section is devoted to crystallographer Nikolay V. Belov and mineralogists Nathan I. Ginzburg and Richard V. Gaines, outstanding scientists of the 20th century.
Jacques Touret, from Ecole des Mines de Paris and Andrey G. Bulakh from the St. Petersburg State University tell about the detailed history of the building of the Tombstone of Napoleon I in Paris from quartzite from Shoksha (Karelia, Russia). Sergey V. Kolisnichenko reports on a new meteorite form the South Urals (Russia). Reports of Mineral Shows and exhibitions held in 2016 include the Moscow and Munich Mineral Shows and a stonecutting art exhibition in the Vernadsky State Geological Museum RAS (Moscow).
Status:
Available
Price:
$35.00 (USD)

Add to shopping cart
MINERAL OBSERVER.
Mineralogical Almanac, volume 21, issue 3, 2016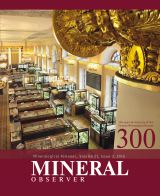 96 pages, 223 illustrations including 156 mineral photos.
Main article by Irina I. Kupriyanova and Nikolay N. Krivoshchekov devoted to beryllium minerals of the unique Ermakovskoye deposits in the Eastern Transbaikal Region. Boris Z. Kantor devoted his ontogenic column to unusual calcite from India.
Two articles devoted to the eminent persons of the mineral world: Nikolay P. Yushkin, Academician, mineralogist, and Wendell Wilson, the Publisher and Editor-in-Chief of the famous American magazine Mineralogical Record.
The phenomenon of mineral collecting is discussed again on the pages of our magazine in an article of Boris Z. Kantor.
As usual we publish reports from some Mineral Shows, held in the first half of the year in Tucson (United States), Moscow (Russia) and Sainte-Marie-aux-Mines (France).
Status:
Available
Price:
$35.00 (USD)

Add to shopping cart
Mineralogy of Saranovskoe Chromite Deposit (Middle Urals)
Mineralogical Almanac, volume 21, issue 2, 2016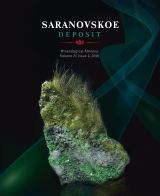 Famous Mineral Localities of Russia
Oleg K. Ivanov
Mineralogy of Saranovskoe Chromite Deposit (Middle Urals). Mineralogical Almanac, volume 21, issue 2, 2016.
Moscow: Mineral-Almanac Ltd. 128 pages, 261 illustrations including 179 mineral photos.

This issue of Mineralogical Almanac is devoted to the Saranovskoe chromite deposit at Middle Urals.
This deposit known for almost two hundred years is a unique mineralogical object, particularly as a source of great diversity of unusual Cr-bearing minerals. Among mineralogists and collectors Saranovskoe is famous for nice specimens of uvarovite, shuiskite, redledgeite, millerite, Cr-enriched varieties of titanite, amesite, diaspore, kassite, and pumpellyite-group and chlorite-group minerals. Crystals of grimaldiite and guyanaite were first found here.
At present 111 mineral species are known at the Saronovskoe deposit. Rich and unusual mineralization is a result of the interactions of chromitic rocks related to layered gabbro-ultramafic intrusion and hydrothermal solutions produced by dolerite dikes. The data on the mineralogy of the Saranovskoe deposit are summarized including results of author's long-time studies, a review of all previously published data and description of interesting recent mineral finds.
Status:
Available
Price:
$45.00 (USD)

Add to shopping cart