"Mineralogical Almanac" is the source of information
for mineral collectors and amateurs around the world
who seek a deeper knowledge of minerals, mineral deposits & localities, collections and more!
Important Dates in May

May 6, 1929, Marianna Borisovna Chistyakova was born, who stays with A.E. Fersman Mineralogical museum (RAS) since the 1950's(!). She supervises the gem and color stone collection of the Museum.

May 15, 1915, John Sinkankas was born (died May 17, 2002), a famous gemologist and an author of a fundamental book on North American gemstones, Emerald and Other Beryls, this original encyclopedia, a magnificent course of mineralogy for amateurs, and many other books. Mineral sinkakasite was named in his honor. As http://www.palagems.com/ sinkankas.htm states: "…Pilot, author, bibliophile, bookbinder, collector, artist, lapidary, historian, scholar – John Sinkankas was the epitome of the Renaissance man."

May 17, 1936, Lia Nikolayevna Kogarko, a academician of Russian Academy of Science and a specialist in magmatism, ore deposition, and geochemistry, was born. Mineral kogarkoite discovered in Colorado, USA, was named in her honor.

May 18, 1925, Anatoly Nikolaevich Korobov was born, a pilot, designer, artist, lapidary, collector, screenplay author for animated films, etc. For many years he heads the Moscow friends of Mineralogy Club, being an organizer and participant of the Wonder in Stone annual exhibition for three decades. His scenery stone collection is a unique.

May 20, 1936, Nikolai Pavlovich Yushkin, a academician of Russian Academy of Science, was born. He is a mineralogist (in particular, he deals with biomineralogical problems) and a Director of the Geological Institute of the Komi Scientific Center, Uralian Branch of RAS (Syktyvkar). During the last two decades he heads studies on fundamental description of the Uralian mineralogy. Mineral yushkinite was named in his honor.

May 21, 1885, Nikolay Alexeevich Smol'yaninov was born (died 1957), a Professor of mineralogy in the Moscow Geological Prospecting Institute since 1930 and a head of the Mineralogical museum of the same institute during 1930-1957. He was among the top mineralogists and an author of a Practical Guide on Mineralogy. Mineral smolyaninovite was named in his honor.

May 29, 1846, Carl Fabergé was born, famous Russian jewelry.


Latest Publications
MINERAL OBSERVER.
Mineralogical Almanac, volume 23, issue 1, 2018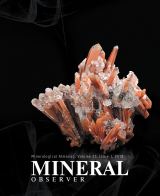 104 pages, 272 illustrations including 133 mineral photos.
In this issue of Mineralogical Almanac we have summarised the main events in 2017. The main article by Eugeniy G. Gapanyuk, the curator of the Diamond Fund of the Russian Federation, is devoted to this fund which celebrated its 50th Anniversary in 2017. This paper describes the history of this exhibition which is unique in the world and highlights the displays of the Diamond Fund. Yulia D. Gritsenko and Ekaterina I. Gerasimova report the results of a study of the unique size and perfection of crystals of morimotoite, which were recently mined at the Odikhincha alkaline pluton in North Siberia. Dmitry A. Kliemenov and Alexander L. Usov describe an exhibit of fulgurites ("petrified lightning") in the Urals Geological Museum. A paper by Yuriy B. Marin, the President of the Russian Mineralogical Society, is devoted to the 200th Anniversary of this society. Vladimir I. Pavlishin, our frequent author, devoted his historical notes to Alexander N. Karnozhitskiy and Alexander A. Godovikov in the column "Prominent Mineralogists." In the column "My Mineralogical Journey," we publish an autobiographical essay by Boris Z. Kantor, a famous Russian collector, an expert in mineral ontogeny, and a talented writer of popular-science books and articles for mineral collectors. Next to that his paper entitled "Quartz Twins by Japan Law and Native Copper" in the column "Guide to the Ontogeny of Minerals" is published. As is our tradition we also publish reviews of mineral shows in 2017 in Russia and major shows around the world: Saint-Maire-aux-Mines, Denver and Munich. These were prepared by our international team.
Status:
Available
Price:
$35.00 (USD)

Add to shopping cart
Bazhenovskoe Deposit (Central Urals, Russia): Mineralogy of Rodingites
Mineralogical Almanac, volume 22, issue 3, 2017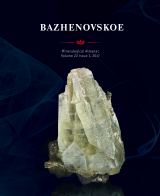 Famous Mineral Localities of Russia
Yuriy V. Erokhin
Bazhenovskoe Deposit (Central Urals, Russia):
Mineralogy of Rodingites. Mineralogical Almanac, volume 22,
issue 3, 2017. Moscow: Mineral-Almanac Ltd. 136 pages, 236 illustrations including 212 mineral photos.
This issue is devoted to rodingites of the Bazhenovskoe chrysotile asbestos deposit located in the Asbest city, Central Urals, Russia. This deposit is related to the Bazhenovskiy ophiolite complex. Numerous spectacular specimens of grossular, diopside, vesuvianite, brucite, clinochlore, prehnite, zeolites and otherminerals fromBazhenovskoe have been kept inmanymuseumand private collections since the beginning of last century. Two new minerals kasatkinite and tatarinovite have been discovered in rodingites of Bazhenovskoe. In this work, besides the mineralogy, the history of studies and geological setting of Bazhenovskoe rodingites are reported, as well as, their typization and genetic features. Chemical composition and detailed data on crystal morphology are given for many minerals. This book can be interesting for mineralogists and students in geological specializations, as well as, amateurs of mineral collectors and museum curators.
Status:
Available
Price:
$45.00 (USD)

Add to shopping cart
MINERAL OBSERVER.
Mineralogical Almanac, volume 22, issue 2, 2017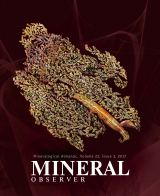 96 pages, 216 illustrations including 158 mineral photos.
The article by Vasiliy N. Orlov on Gold Nuggets found in the Magadan Oblast and Chukotka Peninsula and displayed at the exposition of the Diamond Fund of Gokhran of Russia, is the lead article in this issue. All displayed nuggets are described in detail and are photographed for the first time. Boris Z. Kantor devoted his regular column to the term druza which is widespread in Russian mineral literature. The column "Jubilee" contains an article by Vladimir I. Pavlishin hosting this column about Alexander V. Sidorenko, an outstanding geologist whose creative way was marked by epic discoveries, and an article by Nadezhda N. Krivitskaya and Sophia K. Ryakhovskaya about Marina S. Sakharova, a wonderful scientist and teacher of the Lomonosov Moscow State University. Bob Jones, an outstanding American Collector, Writer and Editor wrote about himself in the column "My Mineralogical Journey". Two articles in the column "Travels for Minerals": first by Victor A. Slyotov remembers his travels to Shurab, Tajikistan, for celestine; second, Mikhail V. Tsyganko with colleagues tells about a Karst Cavity with Calcite Druses in the "Krasnaya Shapochka" Mine, Northern Urals, Russia, and the third article by Mikhail M. Bitman describes findings of skeletal quartz in Lugansk Oblast this spring. Notes on Mineral Shows – Denver-2016 and Tucson-2017, "Virgin Russia" photo exhibition, and Spring Gemma-2017 are also included. And two great Photogalleries – one by Stuart Wilensky and another by Marcus Budil – are real "pearls"of the issue.
Status:
Available
Price:
$35.00 (USD)

Add to shopping cart