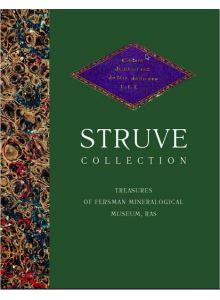 Status:
Available
Price:
$55.00 (USD)

Add to shopping cart
Struve Collection: Album of Mineral Drawings
!!! Very limited Edition!!
Treasures of Fersman Mineralogical Museum, RAS.
Compiled by Nina A. Mokhova. 100 pp, 35 specimen photos, 82 Plates with drawings, soft cover. Fersman Mineralogical Museum RAS Publication.
The book is first publication of the Album of Drawings of the famous mineral collection which had been built by an outstanding Russian Diplomat Heinrich Christopher Gottfried von Struve (1772–1851). It contain only a small part of the collection drawings but lucky original specimens survive over centuries too and they are presented in the book together with drawings. The readers will find here a really exciting story of Heinrich von Struve life and his mineral collection (including archive documents).