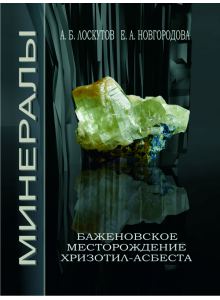 Status:
Available
Price:
$88.00 (USD)

Add to shopping cart
Minerals Bazhenovskoye chrysotile asbestos deposit (Russian)
Mineraly Bazhenovskogo Khrisotyle-asbestos mestorozhdeniya
By Alexander B. Loskutov and Elena A. Novgorodova.
570 photos and 3D color schemes of the veins and sections.
Format: 24.5 x 34 cm. 340 pages. Published by the authors in 2013.
The book is devoted to the minerals of the rodingite of one of the most famous deposits of the Middle Urals. It consists of 14 chapters, in which the varieties of grossular, vesuvianite, brucite, diopside and other minerals of the deposit is comprehensive presented.
Published by amateur collectors on the basis of their study and observation for thirty years. Highly recommended!