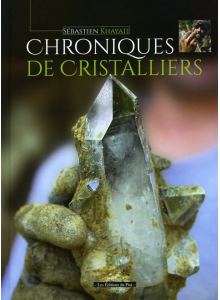 Status:
Available
Price:
$55.00 (USD)

Add to shopping cart
Chronicles of Crystal Hunters (French)
Chroniques de Cristalliers
By Sebastien Khayati.
550 photos. Format: 21 x 29.7 cm. 224 pages.
Published in 2014.
Book devoted discoveries that attracts attention of collectors of the world.
Most important chapters of the book:
• Axinites of Armentier
• Prehnites of Combe de la Selle
• Anatases, brookites, quartz of Plan du Lac
• Quartz from La Gardette
• Sidérite and quartz of Allevard
• Sidérite and quartz from Vizille and Saint-Pierre-de-Mésage
• Ghost Quartz from the Deux Alpes
• Fluorite pink and red of Mont Blanc
.........and more.