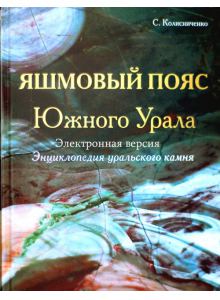 Status:
Available
Price:
$110.00 (USD)

Add to shopping cart
Jasper of the Southern Urals. Encyclopedia (Russian)
Yashmovyi Poyas Yuzhnogo Urala. Entsiklopediya
By Sergey Kolisnichenko.
Format: 34 x 30 cm. 310 pages.
Published by Sanarka (Chelyabinsk, Russia) in 2007.
Popular science encyclopedia of the Southern Ural jasper localities represents most important of them. It includes many photos and information on history of mining and processing of jasper famous jasper deposits of Bashkiria and the Chelyabinsk region. One chapter shows treasures of stone-cutting carvings of the 18th-19th centuries from collection of the State Hermitage Museum. The last chapter is devoted to the present day.