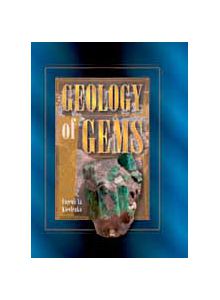 Status:
Available
Price:
$98.00 (USD)

Add to shopping cart
Geology of Gems by Eugenii Kievlenko
Edited by Dr. Art Soregaroli. First English Edition. Ocean Pictures Ltd., 2003 468 pages, including color supplementary - 32 pages. 136 color plates, 128 b/w drawings, hard cover
Preface:
Russian and former USSR geologists, mineralogists and other researchers have provided perhaps the most comprehensive studies of gemstone deposits and gemstone-bearing areas than those in any other part of the world. Documentations of these studies have reached other countries in somewhat piecemeal fashion. Geology of Gems provides for the first time in English a more complete review of the results of their work and an understanding of their considerations and conclusions on the genesis of such deposits.
The strength of the book lies the geologic-genetic approach to gemstone deposits throughout the world. Coverage is international in scope and includes most of the major gemstone deposits, albeit there is a heavy emphasis on deposits in the Russian Federation and former USSR. Although many important gemstone deposits have been discovered since the Geology of Gems was written, there has been no attempt to incorporate data on these deposits.
The author's purpose in writing the book was to provide a framework for the exploration and discovery of new gemstone deposits. This goal has been accomplished. Eighteen chapters are devoted to specific minerals or mineral groups, such as Corundum, Beryl, Garnet, Charoite, etc. Unfortunately the book lacks a chapter on Diamonds, which have always received special and isolated attention in Russia.
Kievlenko's classification of gemstones based on value (early 1990 prices) is the continuation of a Russian tradition dating from the mid-1880's. Many gemologists, mineralogists and others will consider such a classification arbitrary and controversial, however, the classification provides insight into the history of Russian gemstone studies and does not detract from the geologic-genetic strength of the framework of the book.
There is considerable confusion in the literature with regards to deposit and geographic names and locations, especially where they have been translated into Russian and then into English. Partial resolution of this confusion was accomplished through consultation of various general reference and text books; inventories of mineral localities; geographic atlases and maps; various periodical journals devoted to gems, minerals and related topics; glossaries of obsolete mineral names and synonyms; personal conversations with learned friends; and communications with Michael Leybov and Ludmilla Cheshko (Egorova). This process considerably extended the editorial process and required some arbitrary selections. Thus, there is no inference that all names have been resolved. I have assumed that those citations in the text, which are not found in the References, are personal communications.
Brief and frank discussions with Wendell Wilson, John White and Bob Cook provided insight into dealing more directly with some issues. Their input is appreciated. I am especially grateful to my wife, Rosalie, for encouragement during her many months of solitude while editing was in progress, Carla Soregaroli for her many, many hours of word processing of several versions of the text, and Felix Kaminsky for his help in understanding Russian terminology and reinterpretation of some text.
Art Soregaroli Editor, English Edition
| | |
| --- | --- |
| FORWARD TO THE ENGLISH EDITION | 11 |
| ACKNOWLEDGEMENTS | 12 |
| FOREWORD | 13 |
| 1. GENERAL DATA ON GEMS | 14 |
| 1.1. Classification of Gems | 14 |
| 1.2. Jewels | 18 |
| 1.3. Jewelry-Industrial and Industrial Stone | 32 |
| 1.4. Synthetic Crystals – Substitutes of Natural Gems | 33 |
| 2. CORUNDUM (RUBY AND SAPPHIRE) | 38 |
| 2.1. Genera | 38 |
| 2.2. Geological Genetic Types of Deposits | 42 |
| 2.2.1. Magmatic Deposits | 42 |
| Basalt and Alkaline Basalt Extrusions | 43 |
| Alkaline Basic Lamprophyres | 46 |
| 2.2.2. Pegmatite Deposits (Syenite Pegmatites) | 48 |
| 2.2.3. Contact Metasomatic Deposits | 49 |
| Endoskarns in Marbles and Calciphyres | 49 |
| Micaceous Anorthosites in Mafic and Ultramafic Rocks | 57 |
| 2.2.4. Metamorphic Deposits | 61 |
| 2.2.5. Placer Deposits | 61 |
| 3. BERYL | 71 |
| 3.1. General | 71 |
| 3.2. Emerald | 73 |
| 3.2.1. General | 73 |
| 3.2.2. Geological Genetic Types of Deposits | 77 |
| 3.2.2.1. Pegmatite Deposits | 77 |
| 3.3.2.2. Greisen Deposits | 79 |
| Ultramafic Greisens | 80 |
| Carbonate-Black Shale Greisens | 95 |
| 3.2.2.3. Hydrothermal Deposits | 96 |
| 3.2.2.4. Placer Deposits | 102 |
| 3.3. Aquamarine and Other Jewelry Beryls | 102 |
| 3.3.1. General | 102 |
| 3.3.2. Geological Genetic Types of Deposits | 105 |
| 3.3.2.1. Pegmatite Deposits | 105 |
| Miarolitic Granite Pegmatites | 105 |
| Microcline Beryl-Muscovite Vugless Pegmatites | 114 |
| 3.3.2.2. Greisen Deposits | 114 |
| 3.3.2.3. Post-Volcanic Exhalative-Hydrothermal Deposits | 118 |
| 3.3.2.4. Placer Deposits | 119 |
| 4. PRECIOUS OPAL | 120 |
| 4.1. General | 120 |
| 4.2. Geological Genetic Types of Deposits | 124 |
| 4.2.1. Hydrothermal Post-Volcanic Deposits | 124 |
| 4.2.2. Supergene Deposits | 128 |
| 5. TOPAZ | 132 |
| 5.1. General | 132 |
| 5.2. Geological Genetic Types of Deposits | 135 |
| 5.2.1. Pegmatite Deposits | 135 |
| 5.2.2. Greisen Deposits | 145 |
| 5.2.3. Hydrothermal Deposits | 145 |
| Post-Intrusive Plutonogenic Deposits | 145 |
| Post-Volcanic Exhalation Hydrothermal Deposits | 147 |
| 5.2.4. Placer Deposits | 149 |
| 6. TOURMALINE | 151 |
| 6.1. General | 151 |
| 6.2. Geological Genetic Types of Deposits | 154 |
| 6.2.1. Pegmatite Deposits | 154 |
| 6.2.2. Contact Metasomatic Deposits | 171 |
| 6.2.3. Metamorphic Deposits | 172 |
| 6.2.4. Placer Deposits | 172 |
| 7. SPINEL | 173 |
| 7.1. General | 173 |
| 7.2. Geological Genetic Types of Deposits | 175 |
| 7.2.1. Magnesian Skarn Deposits | 175 |
| 7.2.2. Placer Deposits | 180 |
| 8. GARNET | 181 |
| 8.1. General | 181 |
| 8.2. Geological Genetic Types of Deposits | 186 |
| 8.2.1. Magmatic Deposits | 186 |
| Kimberlites | 186 |
| Basaltic Eruptive Breccias | 191 |
| Felsic and Intermediate Extrusive Rocks | 193 |
| 8.2.2. Pegmatite Deposits | 194 |
| 8.2.3. Contact Metasomatic Deposits | 195 |
| Exo- and Endoskarns | 195 |
| Apogabbro Metasomatites | 196 |
| 8.2.4. Hydrothermal Deposits | 198 |
| Plutonic Deposits in Ultramafic Rocks | 199 |
| Post-Volcanic Deposits in Acid Extrusions | 202 |
| 8.2.5. Metamorphic Deposits | 202 |
| 8.2.6. Placer Deposits | 204 |
| 9. PERIDOT (CHRYSOLITE) | 208 |
| 9.1. General | 208 |
| 9.2. Geological Genetic Types of Deposits | 209 |
| 9.2.1. Magmatic Deposits | 209 |
| Kimberlites | 210 |
| Basalts and Alkaline Basaltoids | 212 |
| 9.2.2. Hydrothermal deposit | 215 |
| Ultramafic Alkaline Massifs of the Central Type | 215 |
| Ultramafic Massifs of the Alpine Type | 218 |
| 9.2.3. Placer Deposits | 219 |
| 10. AMETHYST | 221 |
| 10.1. General | 221 |
| 10.2. Geological Genetic Types of Deposits | 223 |
| 10.2.1. Pegmatite Deposits | 223 |
| 10.2.2. Iron-Ore Skarn Deposits | 225 |
| 10.2.3. Hydrothermal Deposits | 226 |
| Plutonogenic Deposits | 226 |
| Volcanogenic Deposits | 233 |
| Telethermal Deposits | 236 |
| 10.2.4. Placer Deposits | 236 |
| 11. TURQUOISE | 237 |
| 11.1. General | 237 |
| 11.2. Geological Genetic Types of Deposits | 240 |
| 11.2.1. Deposits in Magmatic Rocks | 240 |
| 11.2.2. Deposits in Sandy-Shale Rocks | 250 |
| 12. AMBER | 255 |
| 12.1. General | 255 |
| 12.2. Geological Genetic Types of Deposits | 261 |
| 12.2.1. Biogenic-Sedimentary Deposits | 261 |
| 12.2.2. Placer Deposits | 262 |
| 13. LAZURITE | 273 |
| 13.1. General | 273 |
| 13.2. Geological Genetic Types of Deposits | 276 |
| 13.2.1. Deposits in Magnesian Skarns | 276 |
| 13.2.2. Placer Deposits | 287 |
| 14. JADEITE | 288 |
| 14.1. General | 288 |
| 14.2. Geological Genetic Types of Deposits | 291 |
| 14.2.1. Contact Metasomatic Deposits in Ultramafic Rocks | 291 |
| 14.2.2. Placer Deposits | 302 |
| 15. NEPHRITE | 303 |
| 15.1. General | 303 |
| 15.2. Geological Genetic Types of Deposits | 306 |
| 15.2.1. Contact Metasomatic Deposits | 306 |
| Deposits in Serpentinized Ultramafic Rocks | 307 |
| Deposits in Magnesian Skarns | 319 |
| 15.2.2. Placer Deposits | 323 |
| 16. CHAROITE | 326 |
| 16.1 General | 326 |
| 16.2 Geology and Genesis of the Sirenevyi Kamen Deposit | 327 |
| 17. MALACHITE | 333 |
| 17.1. General | 333 |
| 17.2. Geological Genetic Types of Deposits | 335 |
| 17.2.1. Deposits in Oxidized Zones of Copper Sulfide Ores in Carbonate-bearing Rocks | 335 |
| 17.2.2. Placer Deposits | 343 |
| 18. CHALCEDONY | 345 |
| 18.1. General | 345 |
| 18.1.1. Agate | 347 |
| 18.1.2. Carneol, Carnelian, and Sard | 350 |
| 18.1.3. Chrysoprase | 351 |
| 18.1.4. Other Decorative Varieties | 353 |
| 18.2. Geological Genetic Types of Deposits | 355 |
| 18.2.1. Postvolcanic Hydrothermal Deposits | 355 |
| Chalcedony deposits in basic and intermediate volcanogenic rocks | 355 |
| Agate deposits in silicic volcanogenic rocks | 367 |
| 18.2.2. Diagenetic and Catagenic Deposits | 370 |
| 18.2.3. Deposits in Weathered Crusts | 373 |
| Chrysoprase deposits in nickel-bearing weathered crusts on ultramafic rocks | 373 |
| Eluvial and eluvial-diluvial placers | 377 |
| 18.2.4. Placer Deposits | 377 |
| Agate-bearing conglomerates | 378 |
| Alluvial placer deposits | 379 |
| Shoreline placers | 383 |
| 19. RHODONITE | 383 |
| 19.1. General | 383 |
| 19.2. Geological Genetic Types of Deposits | 386 |
| 19.2.1. Deposits in Calcic Skarns | 386 |
| 19.2.2. Hydrothermal Deposits | 388 |
| 19.2.3. Metamorphic Deposits | 389 |
| 19.2.4. Placer Deposits | 398 |
| 20. ECONOMIC-GEOLOGICAL TYPES OF GEMSTONE DEPOSITS AND THE PRINCIPAL REGULARITIES IN THEIR SPATIAL DISTRIBUTION | 400 |
| Magmatic deposits | 401 |
| Pegmatites | 401 |
| Gemstone deposits in ultramafic Rocks | 406 |
| Gemstone deposits in ultramafic Rocks | 407 |
| Hydrothermal deposits | 408 |
| Metamorphogenic deposits | 408 |
| Weathered crusts | 408 |
| Placer deposits | 409 |
| ABBREVIATIONS | 414 |
| REFERENCE | 415 |