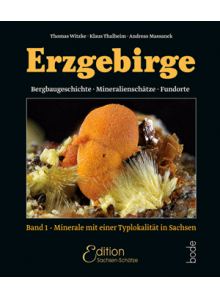 Status:
Available
Price:
$98.00 (USD)

Add to shopping cart
Ore Mountains (Erzgebirge) - Minerals with a type locality in Saxony (on German)
Erzgebirge - Minerale mit einer Typlokalität in Sachsen
By Dr. Thomas Witzke, Prof. dr. Klaus Thalheim and Dipl.-Mineralogist Andreas Massanek
About 1,800 photos of minerals, sites, historical labels. Format: 24 x 28 cm. 664 pages. Published by Bode Verlag, Germany in October, 2018.
The first volume from the new four-volume "Edition Sachsenschätze".
It is a milestone in the history of Saxon mineralogy in every respect. It is the standard work that will find its place next to the "Klockmann", next to the "Strunz" and "Rösler" in every library of a mineral collector or scientist. Read the exciting stories and events surrounding the discoveries and first descriptions of the Saxon minerals, to many errors and misconceptions. Follow the often complicated and interesting paths that a mineral determination has gone through for centuries. Some of the information turns out to be inaccurate, but sometimes dragging through the literature for a long time. In other cases, there are different interpretations of what should be regarded as the original description and thus also as type locality. This unique compendium now presents all type minerals found in Saxony for the first time.