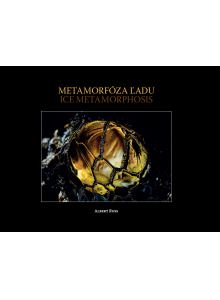 Status:(RU)
Available (RU)
Price (RU):
3,500 p

Add to shopping cart (RU)
Ice Metamorphosis
By Albert Russ
176 photos. Format: 29 x 20 cm. 200 pages. Published in October 2018.
Ice Metamorphosis is an art/photography book with a detailed look on ice from a very unusual perspective. It focuses on stalagmites in abandoned mines of Banska Stiavnica, Slovakia. Author has spent 10 years documenting growth, thaw and metamorphosis of ice stalagmites in these mines. Each winter season brought different motives for a virtually infinite possibilities of abstracts, especially those of etching structure details of melting ice stalagmites. Analogical to etching of other mineral species such as beryl, topaz or quartz, these structures also had common features and some similarities although each produced image turned out to be unique. The publication touches the aspects of global warming and climate change in relation to changes of seasonal ice formation
Book consists of three chapters with Forword written by Peter Lyckberg, the world-famous Swedish mineral collector, and Ján Madarás, a well-known Slovak geologist. The story behind photography is co-edited by Bryan Swoboda, the famous American mineral film-maker and documentarist.