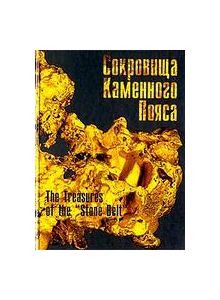 Status:
Available
Price:
$80.00 (USD)

Add to shopping cart
Out of Stock!
The Treasures of the Stone Belt
Sokrovischa Kamennogo Poyasa (Russian and English)
By Ivan V. Dementjev, Yurii A. Polenov, Vladimir N. Avdonin, Valeriy G. Tyuljkin and Eugene V. Burlakov
Format: 24.5 x 34 cm. 144 pages. Published in 2004.
This full colored book devotes to mineral resources of the Ural Range (called the Stone Belt of Russia), which stretches over two thousand kilometers along the border between Europe and Asia.
This coffe table book illustrates the history of the study and the mining of mineral treasures of the region from ancient times to the present day on the example of the exposition of the Ural Geological Museum.